LN grad wins Olympic bronze in Rio
September 8, 2016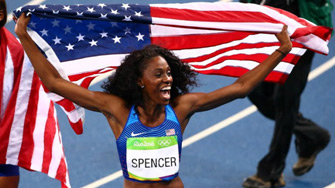 Ashley Spencer, Lawrence North 2011 graduate, is the first Indiana woman to bring an Olympic medal back to her home state. Spencer won the bronze medal in Rio in the 400 meter hurdles.
As a Wildcat, Spencer won 12 individual Indiana state championships and was named Ms. Track & Field of Indiana in 2011. She accepted a scholarship to compete and study at the University of Illinois where she won back-to-back NCAA championships in the 400 meters. She still holds six Illini school records. As a junior, she transferred to the University of Texas, where she earned her degree in 2016.
Spencer is the daughter of Demetrius & Rita Spencer. She credits her grandmother, "Nana" for encouraging her to change events and run the hurdles. Her coach, Tonya Buford-Bailey said Spencer has a true passion for running the hurdles.
Photo Gallery