Water/Sewer Utility Bill Assistance Program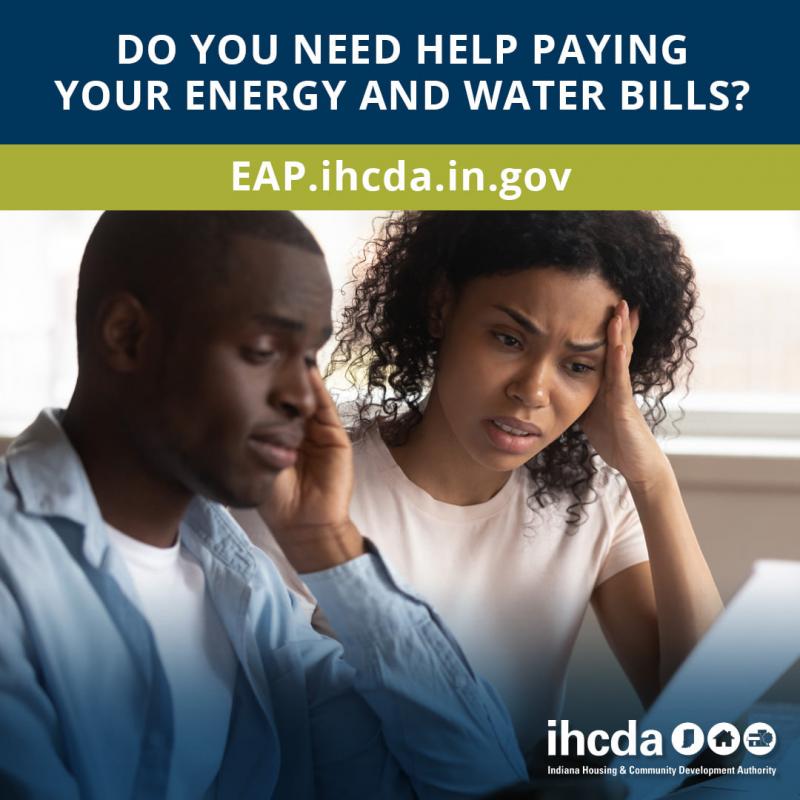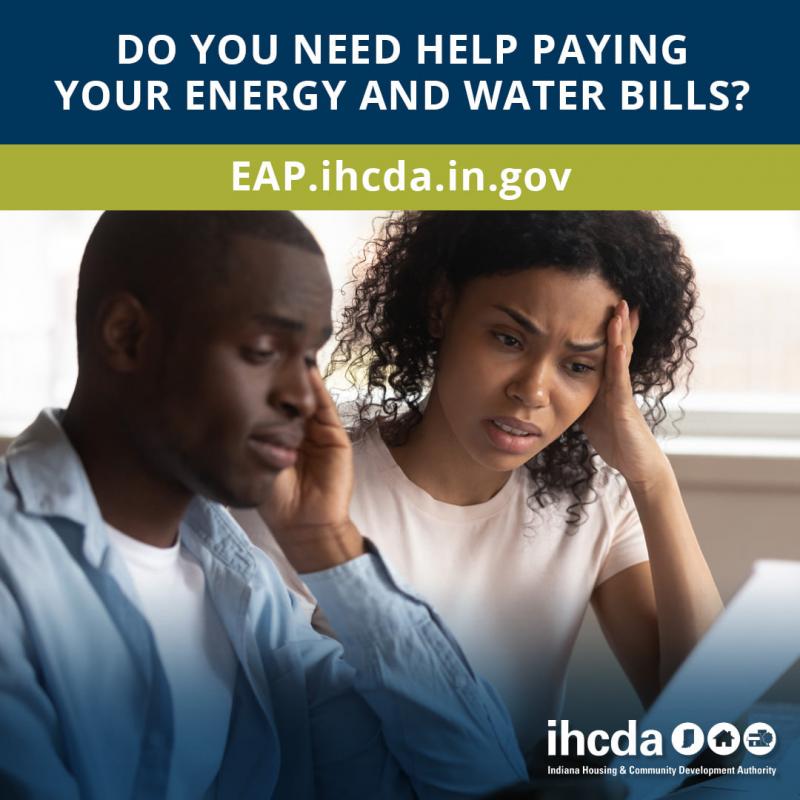 NOTICE: Per IHCDA, the last day for applications for this program is May 16, 2022 at 4:59:59 PM. Applicants can begin applying again on October 1, 2022.
Are you struggling to pay your utility bills?  Assistance may be available to you!
If you are applying for assistance with your energy bills (gas or electric), this year you may also apply for water assistance too. This is a single application combined for determining eligibility for both benefits. There is a policy of not re-determining eligibility for a household more than once during a Program Year. Thus, applicants who choose to apply only for Energy Assistance Program (EAP) or only for Water Assistance will be unable to return later in the program year and apply for the other benefit. Additionally, benefits are determined based on the time of application. Therefore, the LIHEAP-LIHWAP program strongly urges all applicants to apply for both benefits when they submit their application. There is no penalty for applying for both if they do not qualify for one for any reason; the worst that can happen is that one of the benefits may be denied.
ENERGY ASSISTANCE
The Low-Income Home Energy Assistance Program (LIHEAP) is a federal program that can help you keep your utilities on during the winter. Indiana's EAP assists you in paying for your energy bills by providing a one-time benefit assistance payment. You do not need to have fallen behind on your heating or electric bills to qualify. LIHEAP pays these benefits directly to the utility vendor to help cover your heating and electric costs. If you do not have utility bills because your utilities are included in rent, you may still qualify for EAP. 
WATER ASSISTANCE
Now you can apply for water/wastewater assistance while applying for EAP assistance. When you complete the EAP application, check the box that you want to receive water assistance as well. Indiana's Low-Income Household Water Assistance Program (LIHWAP) is a new program that provides funds to help you catch up with your water and wastewater bills. LIHWAP is a temporary emergency program that will help low-income households pay for past-due water and wastewater utility costs during the COVID-19 pandemic. This program does not require proof of COVID-19 hardship to apply.
AM I ELIGIBLE? 
You may be eligible for both energy and water assistance if you make less than the income limits listed below: 
PROGRAM YEAR 2021-2022 INCOME ELIGIBILITY 
| | | | |
| --- | --- | --- | --- |
| HH size | 1 month | 3 months | 12 months |
| 1 |  $2,251  |  $6,753  |  $27,012  |
| 2 |  $2,944  |  $8,831  |  $35,324  |
| 3 |  $3,636  |  $10,909  |  $43,635  |
| 4 |  $4,329  |  $12,987  |  $51,947  |
| 5 |  $5,022  |  $15,065  |  $60,259  |
| 6 |  $5,714  |  $17,143  |  $68,570  |
| 7 |  $5,844  |  $17,532  |  $70,128  |
| 8 |  $5,974  |  $17,922  |  $71,686  |
| 9 |  $6,104  |  $ 18,311  |  $73,245 |
Please contact your local service provider for income eligibility if you have more than five people living in your household.
For Lawrence residents, the local service provider is the John H. Boner Community Center at 2236 East 10th Street, Indianapolis, IN 46201. Their web address is http://jbncenters.org/, and their phone number is (317) 633-8210. You may contact them to discuss eligibility and for assistance with the application process. Applicants may also submit their application through an online portal link at http://eap.ihcda.in.gov. However, be advised that if you encounter any difficulties or have any questions, those questions should be directed toward the local service provider noted above.
APPLICATION TIMELINE
If you are eligible, benefits payments typically go out starting November 1. 
Beginning December 1, 2021, eligible EAP applicants cannot be disconnected from receiving electric or gas service. This is called a moratorium, which runs until March 15, 2022. If you receive energy assistance, you must renew your application every year. Contact your local service provider to re-apply and to find out what documents you need. NOTE: Moratorium does not cover water and wastewater utilities. 
OCTOBER 1, 2021: Applications open. Go to EAP.ihcda.in.gov, contact your local service provider or call 2-1-1 for information.
NOVEMBER 1, 2021: Benefit notifications to applicants and vendors begin. In-person appointments begin. Appointments are not required to apply—you can email or mail your application as well. 
DECEMBER 1, 2021: Energy moratorium begins. Eligible EAP clients cannot be disconnected from utility service. This does not include water service.  
MARCH 15, 2022: Energy moratorium ends. If your energy bill is not current as of this date, you could be disconnected.
MAY 16, 2022: Last day to apply for EAP and water assistance for this funding cycle. 
HOW DO I APPLY? 
There you will also find a list of local service providers. If you do not have internet access, please call 2-1-1 and ask to be connected to the EAP local service provider in your area. 
If you have a disconnected utility, received a notice for disconnection, or you are almost out of bulk fuel, please call your local service provider immediately, as you may be eligible for a crisis benefit. This year, additional funding is available through the American Rescue Plan Act (ARPA) to help provide additional benefits to qualifying households and to help with past-due balances.