Don't forget to add area code for all calls!
September 16, 2016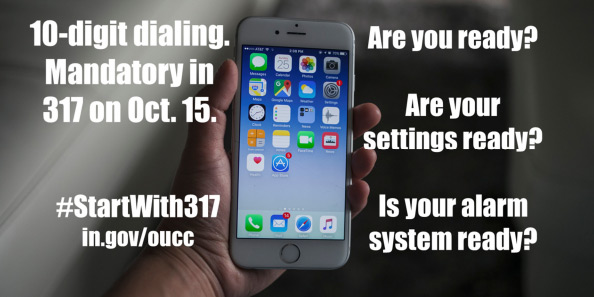 Starting October 15, all local phone calls in the 317 area code will require 10-digit dialing.
In other words, 555-5555 should be dialed 317-555-5555 instead.
The 317 area code is running out of numbers. The solution? The new 463 area code, coming in mid-November.
463 will "overlay" the 317 area. It will be assigned only to new numbers for new cell phones, new businesses, etc.
If you have a 317 number, you'll keep it.
All calls that are local now will still be local. New area codes don't change local calling areas or rates.
Calls to 911, 811, 411, and 211 will still work the same.
Have an alarm system? Check with your provider to make sure it's ready. The same goes for medical alert devices.
Have pre-programmed numbers in a mobile phone or business system? Make sure they're ready.
Between now and October 15, you can complete local calls with either 7 or 10 digits.
If you try to make a local call with 7 digits on or after October 15, a recording will ask you to try again with the area code. Questions? Visit www.IN.gov/OUCC or call 317-232-2494.