Do you know the meaning behind an ofrenda?
October 7, 2021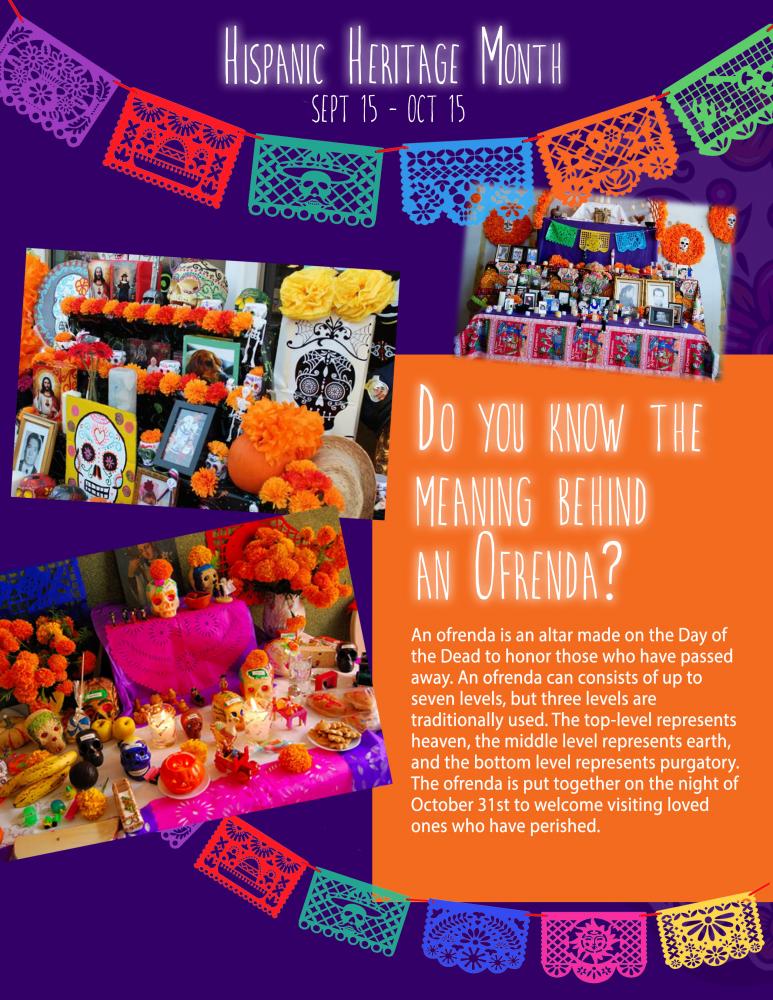 Though the levels and items placed on an ofrenda can vary, traditionally you will find these elements:
Salt signifies purity and joy. It is believed that salt will protect the body from breaking down as it travels the journey between the world of the dead and of the living.

Favorite foods and drinks are prepared and laid out for the spirits to enjoy. The most common food item is Pan de Muerto, the bread of the dead, a round loaf of sugary, sweet bread. Other foods include dishes that the deceased family members enjoyed, bringing back happy memories and familiar tastes and smells.

Candles represent light, faith, and hope. Candles help guide and welcome souls in.

Copal or incense is commonly used to purify the energy of the air around the altar. Allowing cleansing location of any bad energies that may try to come through.

Calaveras de Azúcar (sugar skull) is used as a symbolic representation of life and death.

Papel Picado is a festive and colorful decoration used to represent the element of wind and air.

Cempasúchil (marigolds) are known as the flower of the dead. Their aromatic scent is believed to guide the spirits of the deceased as they return to visit their family. You might also see petals laid out on the ground in a path towards the altar.

Portraits of the deceased are placed on the middle portion of the altar. Pictures of saints might also be present at the highest portion of the altar as it is they who guide the spirits and help to bring them back during Día de Los Muertos.

While these are very common elements of a Día de Los Muertos altar, you can also find other items such as candies, toys (particularly to honor children), personal belongings/ mementos, and religious symbols.
This is a celebration of life, filled with color, food, family moments, and the opportunity to come together as a community in honor of those who have departed this world.
The City of Lawrence along with the MSD of Lawrence Township, the Lawrence Township School Foundation, and Arts for Lawrence are hosting a Dia de Los Muertos celebration on October 9th at the Cultural Campus from 11 am- 3 pm. All are welcome to participate in this FREE event (face painting, traditional dancing, food trucks and more) To help celebrate this beautiful Mexican tradition, the City is sponsoring a community altar. We welcome you to bring an ofrenda or offering (picture, representation of a memento, food, flowers, etc) of a perished loved one or role model whom you would like to honor and celebrate.
Aunque los niveles y elementos colocados en una ofrenda pueden variar, tradicionalmente encontrará estos elementos:
La sal que significa pureza y alegría. Se cree que la sal protegerá al cuerpo de la degradación mientras viaja entre el mundo de los muertos y el de los vivos.

Las comidas y bebidas favoritas se preparan y presentan para que los espíritus las disfruten. El alimento más común es el Pan de Muerto, el pan de muerto, es una hogaza redonda de pan dulce y azucarado. Otros alimentos incluyen platos que disfrutaron los miembros fallecidos de la familia, trayendo recuerdos felices y sabores y olores familiares.

Las velas representan luz, fe y esperanza. Las velas ayudan a guiar y dar la bienvenida a las almas.

El copal o incienso se usa comúnmente para purificar la energía del aire alrededor del altar. Permitiendo limpiar el lugar de las malas energías que puedan intentar pasar.

Calaveras de Azúcar se utiliza como representación simbólica de la vida y la muerte.

Papel Picado es una decoración festiva y colorida que se utiliza para representar el elemento del viento y el aire.

Las cempasúchil (caléndulas) son conocidas como la flor de los muertos. Se cree que su aroma aromático guía los espíritus de los difuntos cuando regresan para visitar a su familia. También es común ver pétalos colocados en el suelo en camino hacia el altar.

Los retratos de los difuntos se colocan en la parte central del altar. Las imágenes de los santos también pueden estar presentes en la parte más alta del altar, ya que son ellos quienes guían a los espíritus y ayudan a traerlos de regreso durante el Día de Los Muertos.

Estos son unos de los elementos más comunes de un altar del Día de Los Muertos, pero también puede encontrar otros artículos como dulces, juguetes (particularmente para honrar a los niños), pertenencias / recuerdos personales y símbolos religiosos.
Esta es una celebración de la vida, llena de color, comida, momentos familiares y la oportunidad de unirnos como comunidad en honor a quienes se han ido de este mundo.
La Ciudad de Lawrence junto con el MSD del Municipio de Lawrence, La Fundación de Escuelas del Municipio de Lawrence y Arte para Lawrence están organizando una celebración del Día de los Muertos el 9 de octubre en el Campus Cultural de 11 am a 3 pm. Durante este evento GRATUITO, la Ciudad patrocinará un altar comunitario y usted está invitado a traer una ofrenda (imagen, representación de un recuerdo, comida, flores, etc.) de un ser querido muerto a quien le gustaría honrar y celebrar.
Photo Gallery