Trick Your Jeep Halloween Parade
October 28, 2021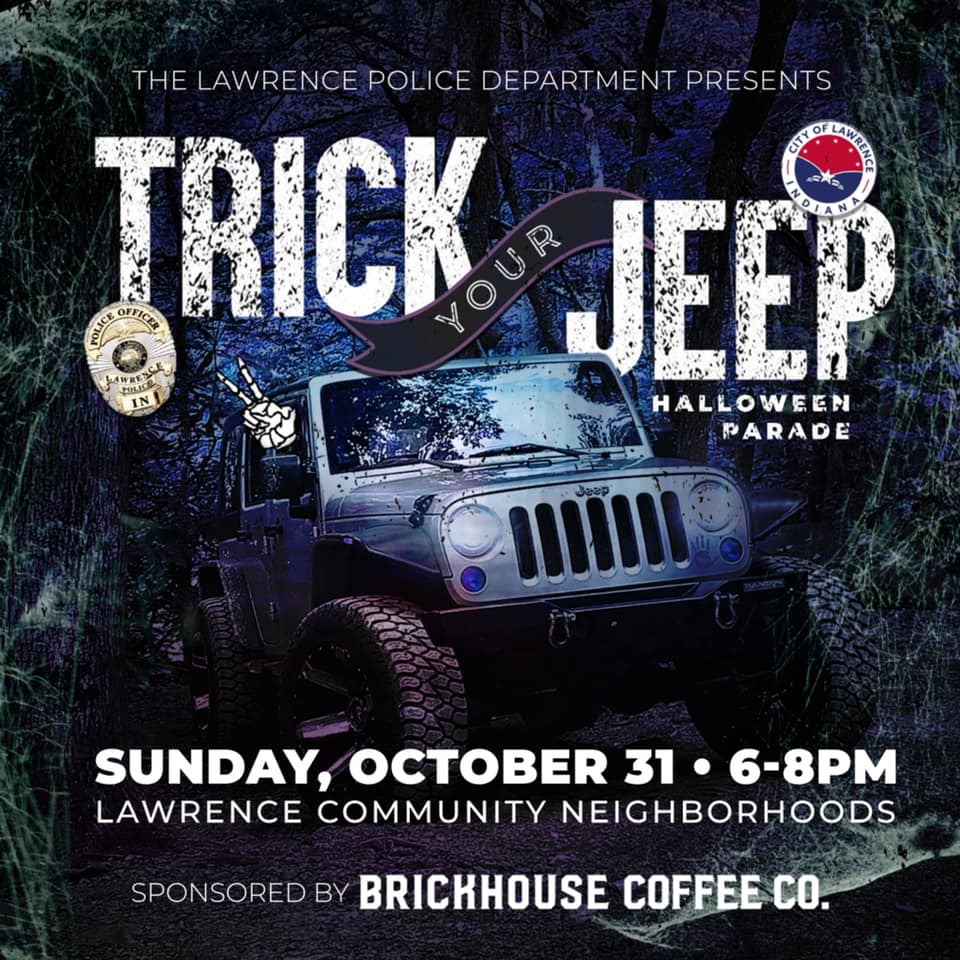 This Sunday evening, October 31st (Halloween) the City of Lawrence, Lawrence Police Department, and Brickhouse Coffee at Geist Shoppes, are partnering with local Jeep clubs for our 2nd Annual Trick Your Jeep mobile event in Lawrence.
Between 6:00 pm-8:00 pm, groups of Jeep owners & LPD officers will be visiting neighborhoods across Lawrence with Jeeps full of safe treats (all factory-wrapped candy) for trick or treaters.
Around 40-50 Jeeps are expected to participate in this year's event!
Look for the Jeep groups visiting these Lawrence neighborhoods Sunday evening during the below times...
1. 6:00-6:10pm- Post Acres
2. 6:15-6:20pm -Harrison Point Apts
3. 6:25-6:30pm- The Reserve @ Franklin Glen
4. 6:35-6:40pm- Harrison Park
5. 6:45-6:50pm- Lawrence Community Park
6. 7:00-7:10pm- Lawrence United Methodist Trunk or Treat
7. 7:10-7:20pm- Brookhaven neighborhood
8. 7:30-7:35pm- Oakridge Manor
9. 7:40-7:50pm- Winding Ridge neighborhood
1. 6:00-6:10pm Spring Valley
2. 6:15-6:20pm Maison Gardens
3. 6:25-6:30pm- Richardt Ave. Corridor… LFD Station #39 (Old Lawrence)
4. 6:35-6:40pm- Watson Farms
5. 6:45-6:50pm Lawrence Apostolic Church Trunk or Treat
6. 7:00-7:10pm- Living Streams Church Trunk or Treat
7. 7:10-7:20pm- Boulders/Cobblestone neighborhood
8. 7:30-7:35pm Geist Valley Estates
9. 7:40-7:50pm- Bayridge neighborhood