Lawrence Exchange Club and City of Lawrence Hosting Event to Honor Veterans
November 10, 2023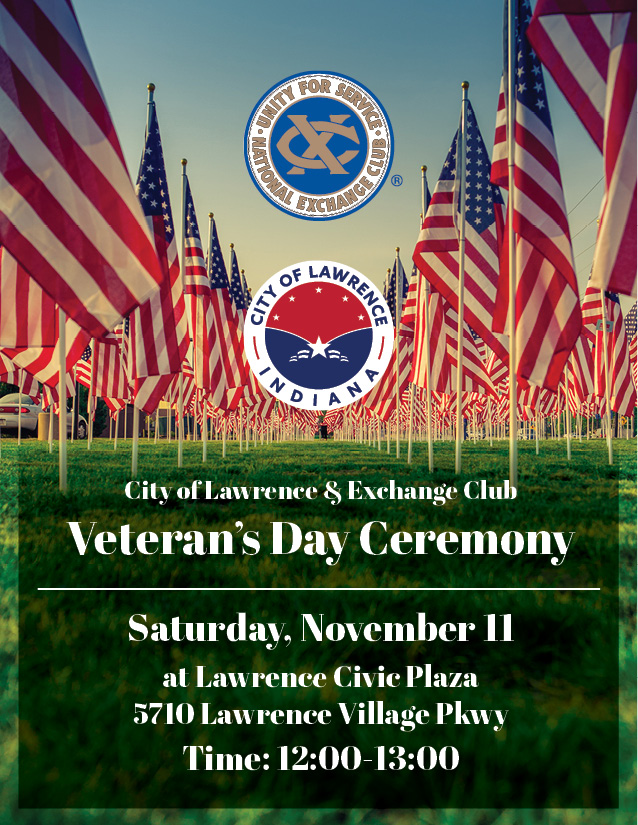 The Exchange Club of Lawrence, Indiana and City of Lawrence, Indiana - Government are hosting an event tomorrow to honor our veterans.
Some special speakers at the event include representatives of The American Legion Historic Fort Benjamin Harrison Legion Post 510, Fort Harrison VFW Post 7119, US Army Financial Management Command, The Blue Star Banner Program and Mayor Steve Collier.
Let's fill Civic Plaza and honor our Veterans tomorrow on Veteran's Day!
Program:
Present the Colors

Harold Daniels: Honor Guard Captain/Color Guard Captain, The American Legion Historic Fort Benjamin Harrison Legion Post 510

Pledge of Allegiance

American Anthem: Will need to play from a playlist

Guest Speaker: Ron Martin, Past VFW State Commander, Fort Harrison VFW Post 7119

Guest Speaker: Harold Daniels, The American Legion, Historic Fort Benjamin Harrison Legion Post 510

Guest Speaker: General Jennings, US Army Financial Management Command

Guest Speaker: Mary Jo Rothenbush, The Blue Star Banner Program

Guest Speaker: Mayor Steve Collier, City of Lawrence

Playing of This Old Flag by Johnny Cash, from play list

Guest Speaker: Jeffry Young, Lawrence Exchange Club