Community Crossings grant extends road projects for City
August 29, 2016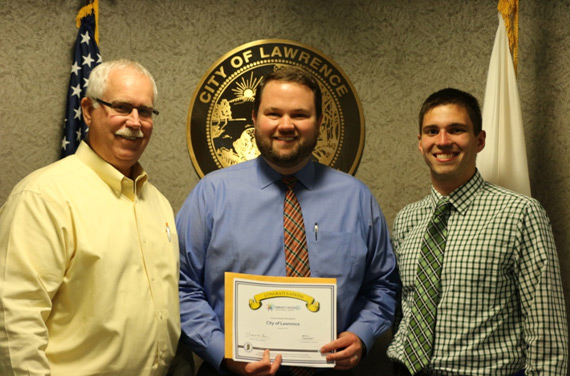 According to Director of Public Works/Code Director William Anthony, the City of Lawrence recently submitted 14 grant applications seeking $1 million in maximum matching funds to the State of Indiana Department of Transportation's Community Crossings matching grant program. Chris Myers from INDOT presented the award to Mayor Steve Collier and Anthony August 24 at the Government Center.
Anthony said all applications focused on individual road resurfacing and rehabilitation projects within the City of Lawrence. The City learned they were awarded the full $1 million in match funds, which will allow an unprecedented investment and infusion of over $2 million in infrastructure improvements throughout the City.
Mayor Collier said construction on the 14 projects will begin this fall with an expected completion of spring, 2017. Collier said construction will begin on Boy Scout Road north of 56th Street to Fall Creek Road this fall.
INDOT says the Community Crossings matching grant program, launched this year, provides nearly $150 million in funding to cities, towns, and counties across Indiana to make improvements to local roads and bridges. Community Crossings is a partnership between INDOT and Hoosier communities, both urban and rural, to invest in infrastructure projects that catalyze economic development, create jobs, and strengthen local transportation networks.