LPD makes arrest in stolen puppy case
January 20, 2017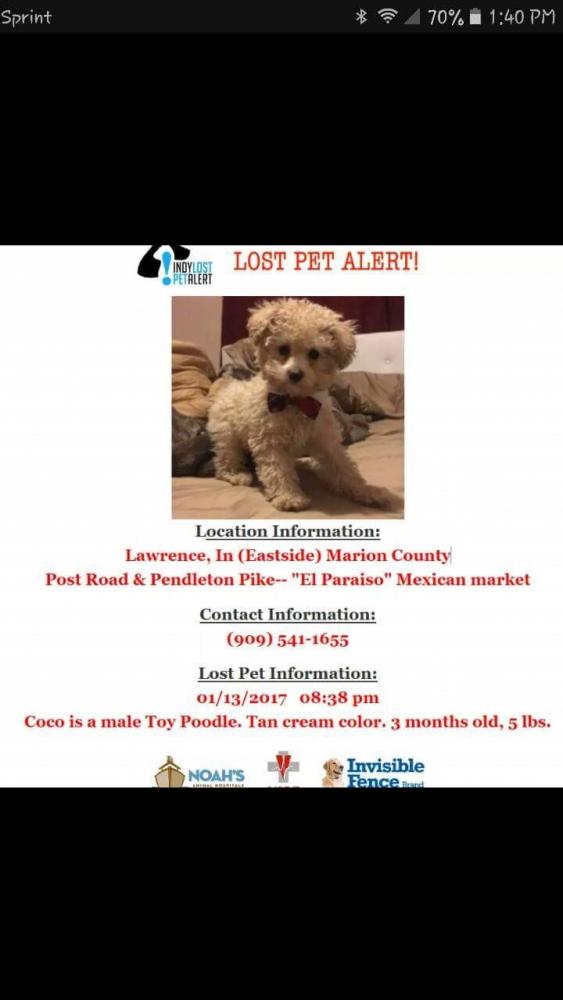 Lawrence Police Detectives have made an arrest in the dog theft incident that was widely reported on from January 18th. An arrest warrant was issued from Marion County Superior Court G08, charging Juan Estrada, age 29, Indianapolis, with Theft, class A misdemeanor. Estrada was taken into custody this morning by Detectives at a downtown Indianapolis business. The stolen puppy has not yet been recovered, however detectives remain hopeful someone will come forward with information about where the stolen puppy, named Coco by her owners, may be located.
Detectives credit excellent video at the location where the theft occurred, and persons who recognized and identified Estrada, leading them to be able to file charges in this incident. They continue to hope someone will also share where Coco may be located, so she can be reunited with his family.
https://www.facebook.com/cristian.gomez.5099/videos/1294957187232059/
Anyone with information regarding where Coco may be located is asked to contact Crime Stoppers of Central Indiana.
Crime Stoppers now has a mobile application for tipping. Search the Apple or Android stores for P3tips and then download the free app. Tips may be submitted with any photos or video tipsters may want to attach. Tips can also be submitted by calling 317-262-TIPS (8477) or 800-222-TIPS (8477) or go to the website www.CrimeTips.org and submit a web tip. All ways of tipping keep tipsters anonymous.