Keefer coaches 700th Wildcat win
December 1, 2017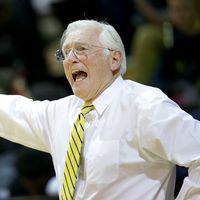 Congratulations to Lawrence North Men's Basketball Coach Jack Keefer, as his Wildcats won their season opener over Park Tudor, 87-49 and propelled him to his 700th win at Lawrence North.
Keefer has been at the helm of LN's men's program for 42 years, since the school opened its doors. Currently tied for third place in Indiana high school basketball on the all-time wins list with 761 victories, Keefer leads current IHSAA coaches with a .709 winning percentage and 761-312 record. After the game, players presented the coach with a plaque marking #700 made from the original bleachers that surround Keefer Court at LN.
The Wildcats hope to earn more victories this season, as they are currently ranked tenth in 4A.