Wright earns LPD Reserve Officer of the Year award
February 21, 2018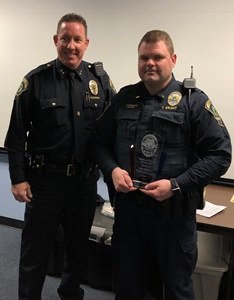 Chief David Hofmann presented the LPD Reserve Officer of the Year award to Lt. Thomas Wright during LPD's All-Department meeting at the Armory.
Wright joined LPD in 2004, and has also served as a police officer with the War Memorial PD, Southport PD, University of Indianapolis PD, and Butler University PD. He holds a degree in Criminal Justice from Indiana University.
During 2017 alone, Wright worked over 450 hours of road patrol duty, responding to 370-plus calls for service. In addition, Wright is responsible for overseeing the Reserve officers; providing support for LPD's Operations Division, coordinating the monthly schedule, filling voids, overseeing emergency response callouts, and supplementing activities when needed.
Wright is also a Field Training Officer and new Reserve Officers participate in LPD's field training program under his careful watch, said Deputy Chief Gary Woodruff.