City Celebrates Grand Opening of Richardt Water Treatment Plant
September 5, 2019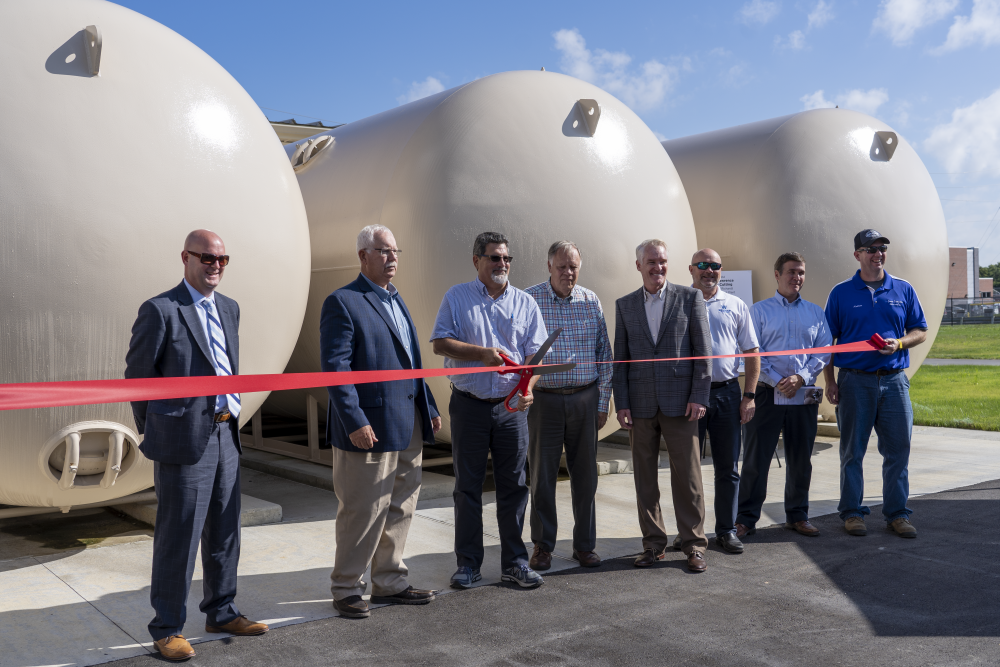 City officials hosted a ribbon-cutting ceremony for the new $4.3 million Richardt Water Treatment Plant.
Mayor Steve Collier said, "This State of the Art Richardt Water Plant represents a new commitment to provide a safe and plentiful supply of water for the foreseeable future. The City's water utility has become a model for all Indiana cities and towns!"
"The new plant has the capacity to produce 4.32 million gallons of water per day, to supply a typical days demand, is the first of many water system improvements that are coming. This project, and the coming improvements to our 2 other water plants, storage tanks, well fields and water distribution system, are visible evidence of the investment in our water infrastructure made possible by our vastly improved financial condition at the water utility. They are a tangible proof that Lawrence has elected to be proactive with respect to infrastructure improvements; as opposed to kicking the infrastructure can down the road, which was the strategy for far too long. "These investments will serve to position the City to enjoy an adequate, safe and reliable source of clean, potable water both now and into the future, reflecting good stewardship of the City's water system assets and funds," Utility Superintendent Scott Salsbery said.
"The new plant replaces the deteriorated facility that was built in 1958 and was expanded in 1971. Until now the facility had not had any improvements done to it essentially since 1972. The outdated facility only produced 2 million gallons per day," Salsbery said.
"It's an exciting time for the utility with our vastly improved financial condition, as evidenced by 5 bond rating upgrades in the past two years, has made it possible for these much needed investments to improve reliability and quality," said City Controller Jason Fenwick.
Wessler Engineering, was contracted to do a complete analysis of the Lawrence water system, and at the top of the list, was to replace Richardt WTP. Graves Brothers Construction was then selected as the general contractor for the project.
"Working with Mayor Steve Collier and Utility Superintendent Scott Salsbery, and other City officials, has been – and continues to be – a great partnership that has developed over several years before this project even began in 2017," said Dylan Lambermont, Wessler Engineering's Drinking Water Group Head. "Because of the decisions by City officials to take the crucial steps to expand and renovate their water system and infrastructure, the Richardt Water Treatment Plant is now able to serve more of the community and help enhance an already growing economy in Lawrence and surrounding areas. From an engineer's perspective, it's amazing to see big projects like this come together with several new additions and renovations, especially now that the plant is able to produce up to 4.3 million gallons of water per day."