City of Lawrence's Bond Refinancing through Indiana Bond Bank Saves Taxpayers nearly $800,000
October 18, 2019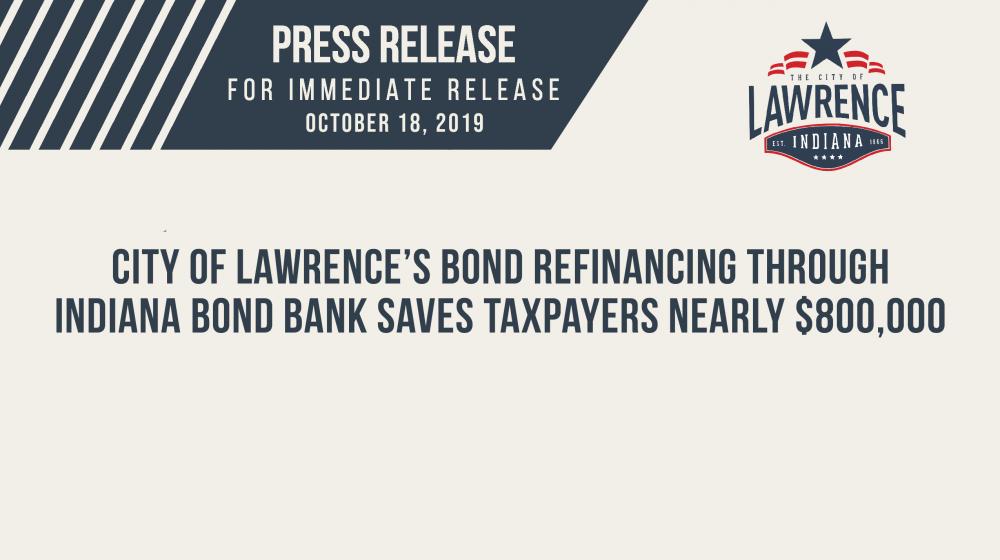 LAWRENCE, INDIANA – The City of Lawrence is pleased to announce it has refinanced 2009 municipal sewage works bonds through the Indiana Bond Bank. This 2019 refinancing allows Lawrence to reduce debt service by $790,000 - more than 20%.
"We believe in managing our budget the same as our residents manage their household budgets. And just like many homeowners are refinancing their mortgages in this low interest rate environment, we had the opportunity to do the same, saving taxpayers nearly $800,000 in interest payments", said Mayor Steve Collier.
Kelly Mitchell, Treasurer of the State of Indiana and Chair of the Board of Directors of the Indiana Bond Bank, said "The Indiana Bond Bank is thrilled to assist the City of Lawrence in reducing their debt service over 20%. By saving money on interest, the City will have more funds available to re-invest in the community."
Indeed, the City of Lawrence has proactive plans to invest the debt service savings toward quality of life. "We are excited to be able to apply these savings to additional capital improvements to our sewer system," said Deputy Mayor and Chief Financial Officer Jason Fenwick.
By refunding through the Indiana Bond Bank, the City of Lawrence was able to share bond issuance costs among 4 other cities and towns refunding their bonds at the same time.
"This 2019 refunding perfectly illustrates the unique ability of the Indiana Bond Bank to pool different communities' financing needs to achieve cost efficiencies and gain better market access," stated Mark Wuellner, Executive Director of the Indiana Bond Bank.
Added Fenwick, "The collaboration between the City of Lawrence and the Indiana Bond Bank teams represents the best in how government is supposed to work for its citizens".
Interest rates for the 2019 Refunding Bonds were set at a sale to investors on October 1, 2019. The transaction is set to close on November 5, 2019. The financing team included Raymond James as underwriter, Barnes & Thornburg as bond counsel and Crowe LLP as municipal advisor.
For more information on the Indiana Bond Bank's programs and services, please contact Brian Carman at bcarman@inbondbank.com or (317) 233-0090.
###