A Message from Fire Chief Dino Batalis
March 17, 2020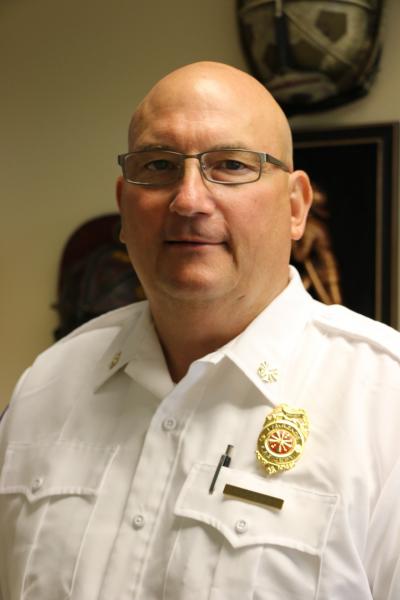 To all residents of the City of Lawrence, the City of Lawrence Fire Department would like to address the state of our Department's planning, preparation and response to the Covid-19 pandemic that we all are dealing with, within our community, state, nationally and worldwide.
Your City of Lawrence Fire Department has always been prepared, for every day emergencies involving Fire, Rescue and Emergency Medical Services along with readiness for incidents involving Mass Casualty.
In the past decade, our Firefighters and EMS personnel were educated, prepared and responded on the incidents of the H1N1, Swine Flu, SARS and MERS virus epidemics and currently have taken the same approach to the COVID-19 pandemic.
We want all of the Citizens of the City of Lawrence to know, that we are briefed daily by the International Association of Firefighters (IAFF), the Centers for Disease Control (CDC), the Indiana State Health Department along with the Marion County Health Department (MCHD), to ensure we are up to date with local, state and national information regarding current protocols, preparation, personal protective equipment (PPE) and response procedures.
The City of Lawrence Fire Department is fully prepared to respond to any and all incidents involving flu-like symptoms and treat each incident with the same response. Our Paramedics and EMTs are highly and professionally trained personnel, with vast experience handling these type of runs. You will see them dressed in their personal protective equipment just like you will see hospital personnel dressed, eye protection, face mask, gown and gloves so do not be alarmed or panic, this is for their protection to serve you or your neighbor if the incident involves, "flu-like symptoms," that are in line with the CDC symptoms. This proactive response is for your protection as well as the protection of our personnel for your health and theirs.
In a time when resources for everyday emergencies can be stretched thin by citizen's flooding our 911 center with questions about COVID-19, questions about your current flu symptoms, or overall concern for your well-being, it is best advised, that if you do not have a true emergency that would require basic or advanced life support, that you contact your health care provider. More information on what you need to do in the event that you do not feel well can be found on the CDC, IDH, MCHD websites or a call to your current healthcare provider. However, if you do feel like you need one of our medic units then please call 911.
Our mission at the City of Lawrence Fire Department is to be prepared and respond to any and all emergency incidents daily, and for the Public Safety of all of our Citizens as well as anyone who travels through the City of Lawrence.
Fire Chief Dino Batalis