Mayor Collier Appoints New Lawrence Police Chief
May 22, 2023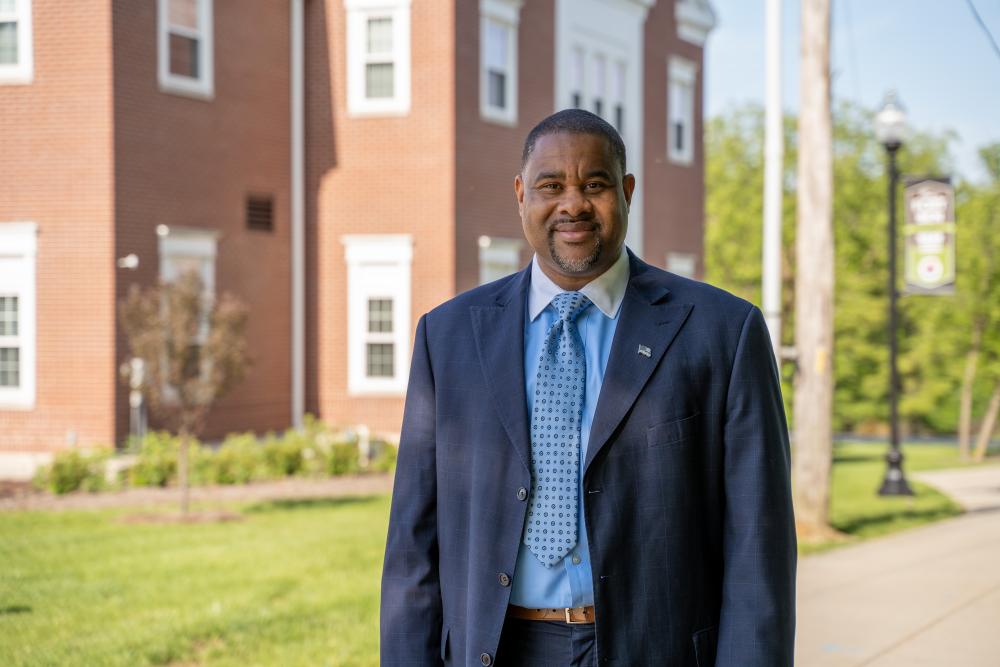 Mayor Steve Collier announces the appointment of Curtis Bigsbee as the City of Lawrence's Police Chief
As Chief Gary Woodruff approaches retirement, Chief Curtis Bigsbee appointed Chief of Police
Lawrence Mayor Steve Collier and the Lawrence Police Department are announcing a change in leadership.
As Chief Gary Woodruff approaches his well-deserved retirement, he unselfishly approached Mayor Collier about stepping aside as Chief, recommending Chief Curtis Bigsbee assume leadership of LPD, effective May 22, 2023.
After nearly 40 years of law enforcement, Chief Woodruff is closing in on concluding his career in public service.
"I believe the time is right to step aside, and for a new Chief to assume leadership of the department," said Chief Woodruff. "I have discussed this transition with Mayor Collier, and he has accepted my decision," Woodruff continued.
"Chief Bigsbee delivers much needed renewed energy to our department, while ensuring we maintain critical continuity moving forward. Chief Bigsbee is a proven leader who is exceptionally well-suited to lead LPD as we continue meeting the challenges law enforcement agencies face in today's environment," concluded Chief Woodruff.
Chief Curtis Bigsbee has served as LPD Deputy Chief of Police for the last ten years. Chief Bigsbee has also served as Operations & Administrative Division Commander. After joining LPD in 2005, Chief Bigsbee served as a patrol officer in Operations, and as a detective in Investigations. Chief Bigsbee is a veteran of the Indiana Army National Guard serving from 1997-2005, including deploying overseas on a NATO Peacekeeping Mission in Kosovo.
Additionally, Chief Bigsbee is a 2016 graduate of the Indianapolis Metropolitan Police Department's Leadership Academy. Chief Bigsbee has served the community by sitting on various boards and committees, and is currently appointed to the Marion County Emergency Services Agency board. He earned a Bachelor's Degree in Business Administration, Finance, Management, & Human Resources from Marian University.
"Having worked closely with Chief Bigsbee since my election as Mayor, he has proven to be an exceptional leader. He is extraordinarily well-prepared to meet & exceed the expectations of our Chief. Chief Bigsbee's integrity and commitment to the City of Lawrence is unparalleled and it is my great honor to appoint him as my Chief of Police," commented Mayor Collier.
"It is the honor of my career to be appointed as Chief of Police for the citizens of Lawrence. Among my top priorities is to engage our youth, while also focusing on community involvement, which I believe will assist in achieving our greatest goal of reducing crime along with improving the safety and the quality of life for all of our citizens," Chief Bigsbee stated.
Chief Woodruff has agreed to continue in his role as Media Relations Chief, working alongside Chief Bigsbee and Mayor Collier.
Photo Gallery